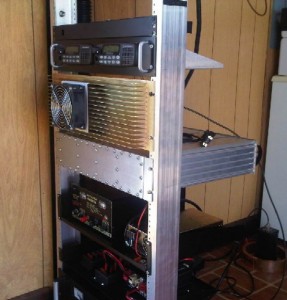 The 224.52 / 222.92 MHz repeater is on the air with a PL tone of 74.4 hz.  The repeater is currently using the following hardware:
Motorola CDM1550LS+ 220 mHz for receiver
Motorola CDM1550LS+ 220 MHz for tx/exciter
Henry 100w amplifier
Celwave duplexer (specs pending)
Arcom RC-210 repeater controller
Hustler G7-220 antenna at 80 feet
1/2 andrews hardline
Motorola M1225LS for UHF remote base
The repeater is presently in test mode in our lab setting, and will be eventually transitioning to a full time site with a higher antenna.  Because of this, the repeater can be found in high or low power configurations, with or without PL required on the input, and with a variety of repeater controller settings in place.
The remote base will most likely be linked to KG4YJB/R on 444.275 Mhz and can access the wide area remote base on 146.52 simplex via that system.
We are proud to operate one of the few active 220 MHz systems in the state!
The system has been on the air since January 2011, and you can stay tuned with current news about the system here on the website by reading updates at the 224.52 Mhz repeater section as well as this page.