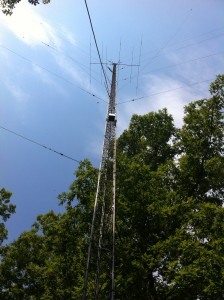 The 444.350 / 449.350 (PL 74.4 hz) MHz repeater system is located in Columbia, Virginia (Goochland County).  It currently operates with the following hardware:
Motorola GM300 receiver
Motorola Maratrac transmitter
Celwave six cavity duplexer
Arcom RC-210 repeater controller
Comet UHF repeater antenna at 150 feet AGL (fed with 7/8 inch hardline)
Motorola GTX 900 MHz radio for link to 927.050 MHz system
17 element 900 MHz link antenna
This system will generally be linked to the rest of the system but may occasionally be operated in standalone mode. This repeater system went on the air in June 2015.