The 1282.0 / 1262.0 MHz repeater system is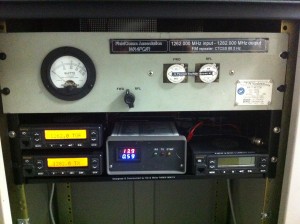 on the air with a PL tone of 88.5 Hz. This repeater system went on the air during July 2014 after design and engineering conducted by N4MW.  FieldComm is pleased to assist with site work and to partner with N4MW in providing the regions first analog 1.2 GHz system for amateurs to enjoy.   The repeater is built from the the following hardware: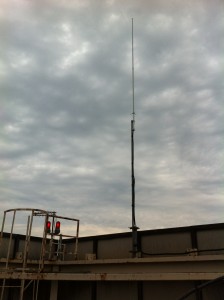 Kenwood TK-780H VHF exciter
Kenwood TK-780H VHF receiver
Kenwood TK-981 900 MHz link radio
Transverter to convert VHF radios to 1.2 GHz frequencies
Hamtronics Electra 2000 repeater controller
Down East Microwave 2300PA amplifier to bring total output power to 30 watts
Paladin D1270-4 duplexer
Diamond F1230A antenna mounted at approximately 506 feet (see picture below)
900 MHz notch filter to eliminate QRM from the nearby 900 MHz repeater
55 feet of hardline between antenna and repeater (mostly 7/8 andrews, 1/2 jumpers used)
Elevation is approximately 490 feet above the ground from our downtown Richmond, Virginia site.  A full technical description of the repeater contents can be found at the N4MW website.