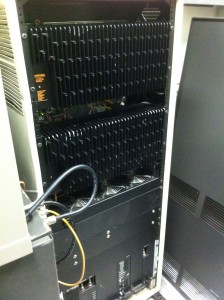 The 927.050 / 902.050 MHz machine operates with a PL tone of 100 Hz or NAC $293 for P25.  It is a cooperative effort between FieldComm, WB4KXS and N4MW. This repeater system went on the air from the site in July, 2012 and was the first 900 MHz system to be active in the region.  The repeater operates in both FM and P25 modes (mixed mode).
The repeater is built from the following hardware:
Motorola Quantro 110 watt repeater
10 db 900 MHz Super Station Master (former paging antenna below)
70 feet of 7/8 Andrews Heliax hardline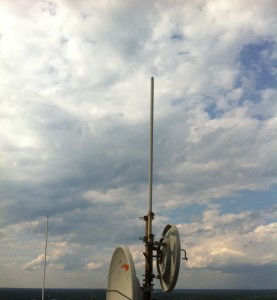 The location is in downtown Richmond, Virginia at a height of approximately 490 feet. It is usually linked to our 1282 MHz system as well as our 220 MHz system.   Thanks to Fred and Dave for doing the work to get this machine assembled and ready for installation.  And for those of you that carried this thing upstairs to where it rests, thanks to you as well.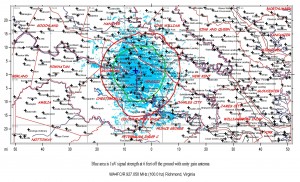 Click the map below for coverage predictions on this repeater.